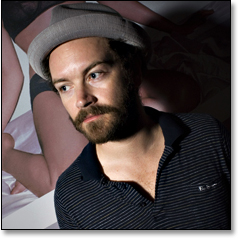 You probably remember Danny Masterson from
That '70s Show
—
but you've also seen him DJing around town, and at
t
he Kids

Cotton Club, his famous jazz night currently blowing Thursdays at Teddy's. Well, now he also wants to dress you. We caught up with him to talk about

Confederacy, the giant new Los Feliz store, cafe and gallery he's opening Friday with stylist and friend Ilaria Urbinati.

UD: So you're now an actor/DJ/jazz maestro/shopkeeper?
DM: I've always been into fashion, so Ilaria and I kicked around the idea of doing our store for six months. I think she thought I was kidding. Then we just went for it—we went to Fashion Week in New York and started placing orders before we even had a space.
UD: How'd you two pair up?
DM: We have been good friends for fourteen years. When she went to Milk, I would shop there for my girlfriend, and she would take me around the store and get so involved in every little detail. Finally I decided, "That's it, you're not working for other people anymore."
UD: What are the favorite things you found we might want to buy?
DM: Robert Geller has a sick blazer with this skinny-ass lapel—it's amazing, fits like a glove. You'll also find APC dress boots that are literally the perfect shape, and great slim shirts from Patrik Ervell.
UD: You've got room for a lot of lines in that big space.
DM: We've also got Shipley & Halmos, Tim Hamilton and Nom de Guerre. Rag & Bone really encapsulates the aesthetic of the store—their military-style tuxedo pants look good on everyone, and they designed our staff uniforms.
UD: We've also heard something about coffee. And Julian Schnabel. Explain.

DM: It's a one-stop shop: men's, women's, books, beauty, cafe, art gallery. Our first couple shows include the etchings of Schnabel, then Francesco Clemente.
UD: But what about our unkempt stubble?
DM: Our grooming section will stock Tom Ford and Comme des Garcons. It's about presenting our take on the best of the best in an environment that's friendly, informed and just rad.
UD: Rad. Any plans to take your jazz night back to the Guy's space when it's rebuilt?
DM: I moved the Kids Cotton Club to Teddy's about a year ago, and it's been so successful I don't think we'll be leaving anytime soon...