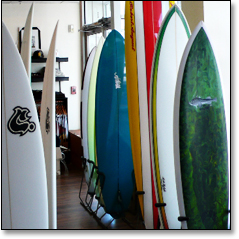 Miami's surf scene is, to say the least, a challenge. Plenty get their waves on
indoors
, but when the ocean gets going (as it has been recently) and you feel those Matthew McConaughey moments coming on, you'll want to be at Collins and First.
That's where you'll find
F1RST
, your groovy new surfer's clubhouse just opened across the street from the beach.
The store's a collaboration between serious watermen from Key Biscayne's Kite Shop and former South Beach surf and skate apparel boutique UNIV. And it shows: It feels like the kind of low-key watersport shack you'd find in Maui. Step inside, and instead of manic color palettes and wild patterns, you're hit with nothing but old-school mellow attitude: wood grains, earth tones and clean lines, all helping you catch the right vibe. The walls offer all the tools of the trade, from leashes to stomp pads, and enough board wax to prepare your entire quiver of longboards (yes, we're still talking surfing).
You'll find a small but solid collection of surfboards, including hard-to-find brands like Insight and RVCA, plus Hawaii's best sandaler, Scott Hawaii sandals—perfect for a day filled with waves...or just a few cocktails by the hotel pool.
Because remember, brah: Surfing's a state of mind.