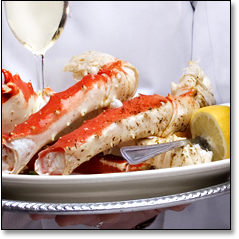 You're no Joe Six Pack, but after Thursday's vice presidential debate, you can't stop thinking about Alaska and its incredible legs...
Good thing Shaw's has just introduced
Alaskan King Crab by Mail
, giving you a pre-Election Day opportunity to further examine one of the state's greatest resources. (Your commitment to being an informed voter knows no bounds.)
Harvested from the Bering Sea's Bristol Bay by the kind of tough skippers you see on
Deadliest Catch
, these king crab legs and claws are the same sweet, succulent ones you've sucked clean at the venerable seafood house for years. Only, now you can savor them in your living room, possibly while watching how undecided Ohio women feel about the 72nd usage of the word "maverick."
Flash-frozen on ship and overnighted to you from Shaw's downtown restaurant, your order arrives packaged in a Styrofoam cooler and wrapped in Mylar, along with plenty of lemons, Shaw's housemade mustard sauce, a set of tongs, loads of napkins and cooking instructions.
Order in advance for your Election Night party, and make sure there's lots of cold beer on hand.
We might even suggest a few six packs.