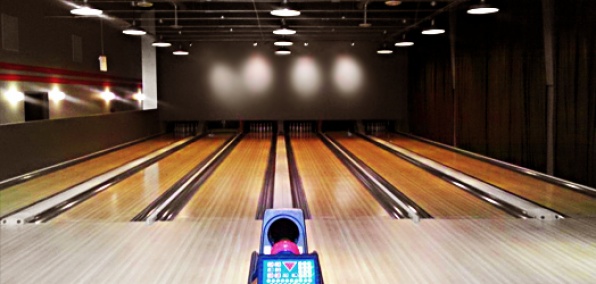 Bowling in a bowling alley: a good start.
But add potent drinks and
food on a stick
, and now we've really got something...
Welcome
Mission Bowling Club
, a six-lane bowling fun house that's also serving up cocktails and fried chicken on a stick, opening tonight on 17th Street.
Sure, this is the second bowling alley to open in SF in two weeks. But it's the first with a low-key clubhouse vibe, mixology-caliber cocktails and food served on tables made with gilded tenpins.
Three of the six lanes are reserved for walk-ins, which means this can complete the choose-your-own-adventure portion of your next second date. Or if you're not bowling, decamp at a table in the front patio—under the giant bowling ball crafted out of cat-food cans—when the weather's good.
When it's time to bowl, head to the tufted-leather couches by the ball-return machine (reclaimed from an alley outside of Fort Bragg). As you play, you can order rounds of rye/grapefruit
MBC Coolers
, then switch to brews from Magnolia, which ought to pair better with the half-pound
Mission Burger
that's been resurrected from the Mission Street Food days.
Or you could go with the aforementioned fried chicken on a stick that comes plated on leftover wood from the bowling lanes.
Hey, it's more original than a bucket.