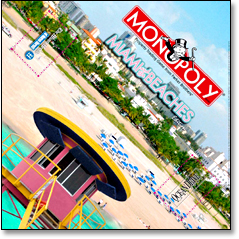 These tumultuous times call for a bit of escapism. Preferably in the form of a familiar and classic board game. But one with style and panache.
Here to jazz up game night and provide you with much-needed wish fulfillment is the new
Monopoly Miami and the Beaches
edition, where you can forget about the harsh reality of the real estate crash and become a tropical tycoon.
As your pewter lifeguard tower marches around the iconic square board, you'll buy property on Lincoln Road, build bungalows at the Fontainebleau and think about investing with the Miccosukee Tribe of Indians. Or maybe you'll grab an
Ocean Drive Magazine
card and earn $150 selling a painting at Art Basel. All in a day's work as a budding Miami development mogul.
The entire game has been customized to include the most famous and recognizable Miami landmarks, including old favorites like Vizcaya to instant classics like Jungle Island. Plus a percentage of all sales go to the Miami Design Preservation League.
You might also pick up some free parking.