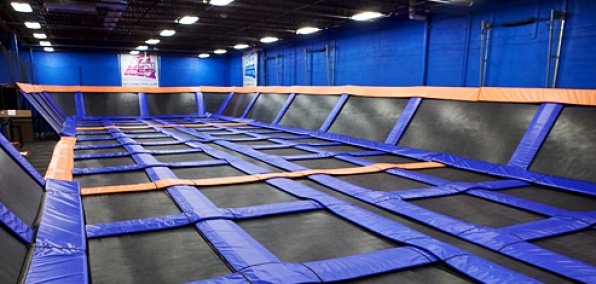 The Pointer Sisters. Van Halen. Kenny "Sky" Walker.

All visionaries in the field of jumping.

But even they didn't think to throw dodgeball into the mix...

Behold the springy splendor of Sky Zone, a little 31,000-square-foot spread of trampoline madness, soft-opening this Saturday.

First, you'll have to get yourself to Gardena. You've done weirder things for exercise. What you'll see when you arrive: something like a giant basketball court. Four of them, actually. Except with a bouncy floor. Oh, and slanted bouncy walls.

So you can come here and just... jump a lot. They encourage that. Once you're all warmed up, you could even take a "SkyRobics" class. (We said could.)

But you'll probably want to focus on what they're calling 3D dodgeball. It's like regular dodgeball, except since you can bounce way up into the air, and run up the walls to do backflips... your dodges are going to be a bit more impressive.

Most of the time, there'll be dodgeball pickup games happening on three of the courts. Or you can call ahead if you and Stiller are forming a private league.

No need to call the pirate.