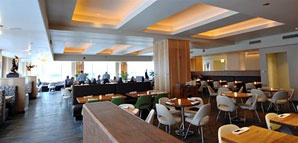 One of these weekends, you'll wake early to peruse the farmer's market bounty. Right now, your late-night commitments prevail: Cocktails here. Sushi there. Foie gras everywhere in between. Frankly, we admire your dedication.

That's why we'd like to introduce Farmerie 58, which shares your devotion to keeping River North evenings as fresh as possible. Launching Wednesday in the former Republic Pan-Asian space, it's taking things more pan-Midwest.

You'll hear those foodie buzzwords here—"local, sustainable and organic"—but don't confuse that with simplicity. Chef William Alexander, a vet of Emeril's in New Orleans, knows how to "bam!"—think Pesto-Crusted Black Cod with Smoked Cheddar Grit Cakes and Grass-Fed Ribeye with Truffle Fries.

If you're in the mood for serious dining, head upstairs for sushi at the stainless steel raw bar, or get a table in the adjacent dining room for a heartier multi-course meal.

And when the agenda calls for a simple after-work beer-and-burger plan, stay on street level. Grab a window seat while pondering a lengthy list of craft brews—though you may be tempted by the Farm Girl's Gatorade (X-Rated Liqueur, Midori, mint and Sprite).

It may not have many electrolytes, but it sure sounds replenishing.