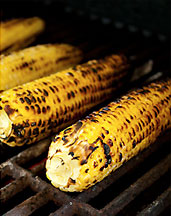 Just the other day, you were thinking: you and Ice-T have a lot in common.
A past feud with Charlton Heston. A recurring role on
Law & Order
. An appreciation of Coco's sparkling... personality.
Okay, maybe not, but it turns out you both love a good pop-up dinner...
Presenting
Barrio Pop-Up Dinner
, a new secret-location series with Afro-Cuban street food and the dim threat of an Ice-T appearance, taking applications now for tomorrow's dinner.
To get in on the action, first you'll have to sort of "apply." By which we mean drop them an email and fill out a short questionnaire regarding where you live, what you do, your interests and so on—a process left over from the organizer's experience throwing these during his Paris years (France, not Hilton).
From there, it's simple. Get the invite. Head to the location (we're sworn to secrecy). You'll do a little light prepping in the kitchen. (Every little bit helps.) Then, exchange bons mots with patrons they think you'll click with—so if you're, say, a fried-chicken magnate, they'll pair you with Josh Beckett.
After that, expect the unexpected: past dinners have had everything from DJ-spun tunes till 3am to cameos from cast members of
The Wire
. Even Ice-T doing his
Inside the Actors Studio
-ish thing. Oh yeah, we almost forgot—this meal is vegan, so choose who will accompany you accordingly.
You've been meaning to catch up with Clinton anyway.