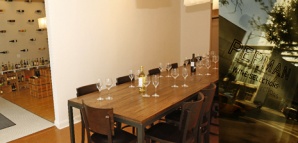 You've been avoiding your local wine shop's weekly tastings lately. It seems like someone's always trying to get you to drive off with the Le Car wine.

That's why you should check out the Tasting Room at Perman Wine Selections, the new no-pressure wine room launching Friday with a selection of Spanish whites.

Craig Perman, a onetime member of the Alinea wine crew, quietly built his West Loop vino boutique with a less-is-more philosophy, both in inventory and interior design. It's located in an old bank building—complete with the original walk-in vault—giving you the feeling you're sipping wine inside a hidden, overlooked treasure.

With a new 12-seat tasting room and a program of weekly tastings, you'll be able to actually learn something about the wines. (Learn by doing, we've always said.) Perman will act as the personal sommelier, offering tasting notes and hors d'oeuvres, but nothing in the way of sales pressure.

If you want to have the room just for you and a dozen of your closest friends, Perman can plan a private event around your tastes.

But he'll let you pop the cork.