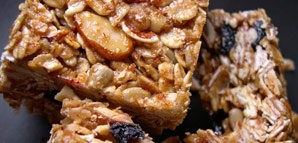 Your weekend workout includes light cardio, maybe a little golf, followed by a killer set of tennis. Then you'll cool down with a bit of yoga.

It's an Olympic-caliber regimen, and the payoff is noticeable: Your Wii avatar has never looked so good. Now you deserve a snack.

We suggest an Element Bar, your new post-workout hunger fix. Launched Wednesday from a Humboldt Park bakery, it may actually be the first nutritional bar you'll truly enjoy. After all, it's designed by someone with your incomparable tastes: you.

Just log in to the Element site and begin programming your bar, which is really no more difficult than dressing that avatar. Choose a texture: chewy, crispy, oaty or datey. Then pile on extras—from dried fruits to sweeteners to supplements (omega 3s, antioxidants or protein). Don't be afraid to overdo it, either; if you want M&Ms with extra protein, we won't tell your trainer.

The bars arrive in about a week, each with a personalized label. Post your unique combination on the site for others to try. They can even vote it up or down using Element's online system.

Not that you're the competitive type or anything.