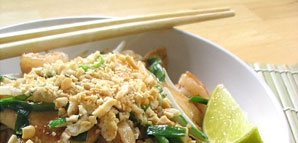 That party everyone went to this weekend sure was fun. The after-party you went to, however, was even better.

But, of course, later is always better.

That's why we're pleased to introduce Late Night Thai, your new nocturnal noodle hut, which opened Friday in Lakeview. Like all the best fetes, it doesn't get fired up until others are calling it quits.

Opening its doors at the quite leisurely hour of 9pm, Late Night inhabits the same squat building that used to house the fabled River Kwai II, a ramshackle affair that built a cult following by opening late, serving amazing curries and using a firm hand with post-bar rabble.

While the new owners may have rehabbed the interior, the service is just as simple. You'll order at the counter, grab a seat along a window lined with rough-hewn cedar stools and wait for a black Styrofoam-like container to arrive with your food.

The menu puts a premium on the basics (pad thai, pad se ew, tom yum soup) and isn't afraid to stray across Asian borders, just in case you're in more of an orange chicken mood.

Plus, it's BYOB, if you just want to keep the party going.

Because things can always get more spicy.