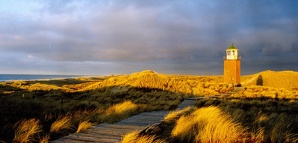 Beach season is officially over, and we know you made the best of it. But if you didn't quite fill your cottage party/madras pants quota this year, head to Germany's Sylt—a skinny spit of sand with a serious beachfront scene.

One of the Frisian Islands, just off the west coast of the German-Danish border, Sylt (pronounced zoolt) is the longest uninterrupted beach in the country. A North Sea hideaway for German gentry, it's remained largely undiscovered by the rest of us, keeping its waters blessedly empty. The island's rolling dunes and thatched-roof cottages take you back to its days as a whaling center—until you see the Mercedes SLRs parked out front, of course.

While your days might be spent windsurfing off the western beaches (where a round of the Windsurfing World Cup takes place every year), horseback riding along the coast or perusing the boutiques in the trendy town of Kampen, you'll want to make base camp down south—where the crowds disappear and the sand is all yours. The homey Dorint Söl´ring Hof is in the tiny village of Rantum, looking out over the North Sea. But with a double-starred Michelin chef in the kitchen and a beach full of Strandkoerbe (Sylt-style covered beach chairs) at the ready, you may never need to venture up-island.

Unless the Benz is itching for a spin.