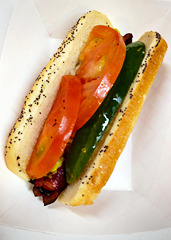 Tonight, your options for 4am hot dogs have never been better:
Jimbo Top Gun Red Hots
and
Phil's Last Stand
have both opened. To understand the subtle differences, we've compiled this handy field guide. Use wisely.

The Inspiration
Jimbo:
A US Air Force pilot; you'll see his picture on the wall.
Phil's:
A 440-pound wiseguy who calls himself Fat Phil—you'll see him behind the counter.
Edge:
Phil's. Unapologically selling
Double Fatso
burgers and char-grilled salami while looking us in the eye—we respect that.
You'll Probably Come Here After...
Jimbo:
Crawls through the streets of Wrigleyville.
Phil's:
Perfecting your running man on the floor at Darkroom.
Edge:
A tie. Though the running man does work up one's appetite.
The Dogs
Jimbo:
Red Hot Chicago
. (Char. Chili. Deep-fried footlongs.)
Phil's:
Vienna Beef
. (Char. Double char. Double char with cheddar.)
Edge:
Jimbo's. A deep-fried footlong is the only hangover preventative recommended by the AMA.
The Crazy
Jimbo:
The
Double Decker
: a thin-crust pizza baked on top of another thin-crust pizza.
Phil's:
An eating contest featuring a two-pound deep-fried shrimp po'boy.
Edge:
Phil's. You do your best competitive eating between 1 and 3am.
The Other Menu
Jimbo:
Burgers. Lobster pasta. Deep-fried ravioli.
Phil's:
A secret menu: with
Fatso con Huevo
(hamburger with an egg) and
Fatso con Loco
(a hamburger with cheddar and sriracha).
Edge:
Phil's—everyone loves a good secret.