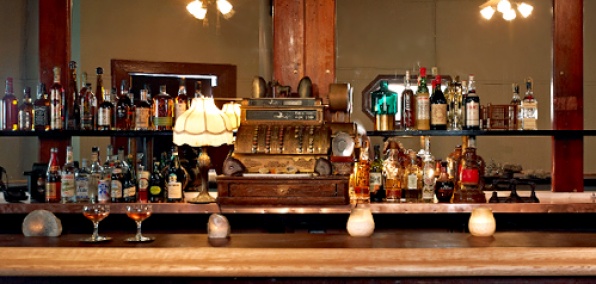 Rocks can take many forms.

Mountains, diamonds, Nic Cage films...



And if you squint slightly, a new bar that deserves to be on your hit list this weekend.



Let us present The Rock Bar, a down-home watering hole where you can smuggle in buckets of
fried chicken and quaff geologically inspired drinks, opening Saturday in Bernal Heights.



Since the people behind the Front Porch are also behind this rustic cocktailing endeavor, you could take
over a stool here, toss back a Dirty Metamorphic (think: dirty martini with muddled Fresno
chilies), check in with the bartender about the Porch's specials, then order the fried chicken from across
the street.



Look for the faux stone facade and the gilded public phone, head inside and make your way to the bar. If a
glint of light catches your eye, it's the gold coins from some undetermined British colony inlaid into the
single plank of mahogany.



After a few King Cobras or their Speakeasy-exclusive cask beer—currently chocolate cherry stout—you'll
want to hit the pool table or try your hand at Gold Rush, the bowling machine by the love-seat rocker.



Where all good bowling machines are.