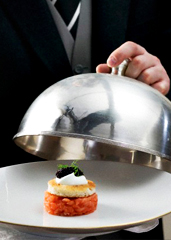 We have an idea for your Valentine's Day dinner.
But we'll warn you right now: this one could go either way.
It's called the
Valentine's Day Hearts Dinner
at Frontier
, and it's your opportunity to replace a trite candy-and-chocolate hearts routine with something immensely more literal, accepting reservations now for Valentine's Day weekend.
Imagine what the 14th is like at Ted Nugent's ranch, and you'll get an idea of where the evening is heading. Four courses. Three of them animal hearts. All in a warm, woodsy Wisconsin cabin of a gastropub. Oh, and you'll be wearing a loincloth. (Just kidding. It's loincloth optional.)
You might want to start with some fortification—a chocolate-raspberry martini for her, perhaps, and a little Moose Drool for you. (It's okay—it's a beer.) And then... let's get this started.
First up: you'll feed each other
spoonfuls of heart tartare
, served on potato blinis with truffle crème fraîche. Proceed to make eyes over a lamb's heart skewered on a sugarcane stem, brightened with Peruvian red pepper and served with spinach and bacon foam. The climax: veal-heart-and-sweet-potato ravioli. If your date has proved to be a culinary adventurer thus far, dessert goes easy: a molten chocolate cake with raspberry sorbet. Totally heartless. If they've bolted, then, hey—two desserts.
By the way, we vote for the loincloth.