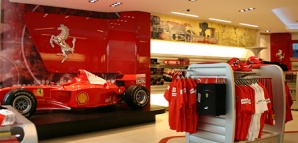 Now is not really the time to invest in an
Italian sports car that averages twelve miles per gallon. There are bills to be paid, dinner checks to be taken care of and new shiatsu habits to be fulfilled.
But a Ferrari is a beautiful machine. And you're always looking for ways to show your respect for its Italian stallion-ness. Luckily, a
Ferrari Store
recently opened at the
Aventura Mall.
A full-sized
vintage Formula One car proudly displayed in the storefront should put you in the mood for the molto merchandise contained within. You'll find polos, luggage, racing gloves and fine porcelain ashtrays stamped with the prancing horse. Dig a little deeper and you'll uncover the real gems, things like a vintage speed pedal and a steering wheel.
You won't be admonished for not owning one, but don't expect to find a
bumper sticker that claims "My other car is a Ferrari" here either.
And later, if someone eyes your red
baseball cap with a scudetto patch and jumps to certain conclusions, well, that's OK by you.
If anyone asks, your ride's in the shop.