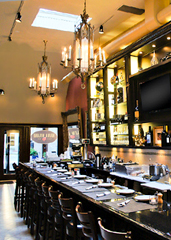 Psst. This way. Follow me, kid. Down this alley. Don't be scared. We got what you want.
A piping-hot pizza.
And once upon a time, that's how you ordered one in this town. Or so we imagine.
Well, good times are here again. Meet
Mama Milano Pizza Bar
, a hidden Old Town gem that has pepperoni in its DNA, now open.
Brief history lesson: Papa Milano was the visionary who introduced the world to eating lasagna in a restaurant in 1919. In the 1930s, another family member did the same for pizza. Before then, there must have been a marinara underground.
The last Papa Milano closed in 2007. Now, two great-grandsons have returned to the family business. (Side note: these guys produced Chicago's
Tony n' Tina's Wedding
, so they're
that
Italian.)
Come here when you're craving traditional Chicago thin crust. Yes, cut into perfect squares and triangle corners. These pies are just big enough to share with maybe one person, so have at it. They have some salads,
a couple of sandwiches
, cannoli and plenty of chianti. So have at those, too.
To find it, poke your way down a cobblestone walkway off Wells, following the scent of warm mozzarella. Squeeze into a place that's mostly just bar, pizza oven, vintage Cinzano posters and gilded chandeliers—which, by the way, appeared in
Tony n' Tina's Wedding
.
But no autographs, please.