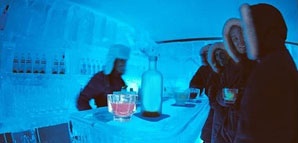 Vegas is many things to many people. But there is one thing that everyone can agree on: It's hot. Hades hot.

So let us suggest a new way for you to cool down that doesn't involve a bathing suit (or...a cold shower). Introducing the Minus 5 Ice Lounge, set to hit the desert in a short two weeks at the Mandalay Bay.

With two main chambers—one constructed entirely of pure Canadian ice blocks and one built to resemble a ski lodge—you'll feel like you're at the intersection of the Fortress of Solitude (without the solitude) and an Aspen après-ski den. Start in the ice chamber, where the lounge provides a parka, hat, gloves and non-slip booties—hygienically lined, of course—before you head to the briefing room for a short film on ice etiquette: no messing with the ice statuary, hold your glass (made of pure NZ water) with two hands, and never lick anything.

When your thirty-minute ice-capade is over, head next door and thaw out in the lodge (known as the "warm bar"). A hot toddy and the nearest snow bunny should be the perfect transition you need back to your Vegas life.

And if things get too hot, you know where to go.