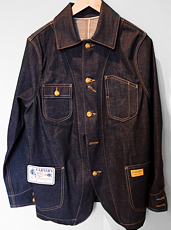 That was pretty great last night.
You saw it: when the president was talking about all the hardworking Americans and their values and the need for more tough-as-nails jeans.
... Pretty sure it was in there.
Well, fellow Americans, introducing
H.W. Carter & Sons
, a reborn line of jackets, pants and shirts tough enough to win a fistfight or two, available by the end of the month.
Not to get detailed about it, but these are clothes. Clothes you can get your hands dirty in (or at least make a convincing case that you have).
A little background: the first version of H.W. Carter started making overalls and the like in 1852 for the type of people who knew what an anvil was really used for. Now, some intrepid lads from
Schott
and Stanley & Sons have reclaimed the name and the badassedness with chambray-lined shirts, duck canvas pants (just a step below Kevlar) and denim jackets that'll have you humming Woody Guthrie tunes and drinking canned beer.
When it's time to get something done (heavy construction, beard convention, taxes), you'll check in with your friends at
Unionmade
,
Smith & Butler
and a few others and grab yourself a pair of buckle-back selvage trousers, and begin the glorious break-in process.
Shouldn't take more than 30 years, tops.