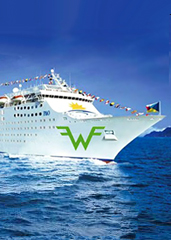 It's a short week, so we'll get right to it. This Thursday, something called
The Weezer Cruise
sets sail from Miami to Cozumel, Mexico. To help you understand how this intersection of Buddy Holly glasses and cannonball competitions will play out, a few key facts.
Fact #1:
They're gonna
party like it's 1994.
Weezer will perform two separate shows (the first while the boat is setting sail). But the schedule also includes 16 other bands, from Dinosaur Jr. to Sebadoh. No word on an appearance by Candlebox.
Fact #2:
It's like The Love Boat, only less tanned.
There's a waterslide pool, a casino and round-the-clock room service. Bonus: you can also get a picture with the band. (Might want to save the flannel Speedo for that one...)
Fact #3: You'll spend some time in Mexico.
The third day entails a stop in Cozumel for some beach time. Walk off your sea legs, grab a margarita and pick up something to wear to '80s night. Which reminds us: there's an '80s night.
Fact #4:
It's like an indie-rock retirement village
. There's shuffleboard and bingo tournaments, karaoke nights, a Rivers Cuomo reading from his book
The Pinkerton Diaries
. Oh, and an ugly-sweater contest. Strange: we remember hearing a song about sweaters once...