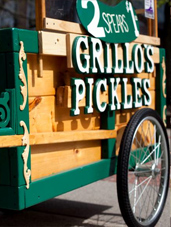 You're a pickle addict.
It's okay, so are we.
Which is why we're happy to bring word of a new shop featuring the pickling work of a local favorite. And it's got a time stamp on it...
Introducing
Grillo's Pickles Pop-Up Shop
, a small, three-month house of all things dill—oh, and some 8-tracks—slated to open this Thursday in Inman Square.
If you took that one walk-in closet you're just using for cleaning supplies for the rooftop jacuzzi, dropped it in Cambridge next to the Clover Food Lab shop and basically made it a really big version of the Grillo's pushcart, you'd have this.
Now, it closes at the end of March. But until then, you'll go here for two-for-a-dollar spears like on Park Street, all while grooving to the 8-track system playing everything from country to rap (nothing says pickles like Snoop Dogg). If you want to leave packing pickle heat, grab a few of the 12- and 32-ounce jugs of Grillo's classic pickles and specialty dilled veggies. Think: root carrots, asparagus, golden and red beets, and traditional English mustard pickles (in short, your sandwiches just got more awesome).
And because pickles tend to bring out your sweet tooth, they'll also have Yummy Mummy brownies, handmade in Southborough.
Consume simultaneously at your own peril.