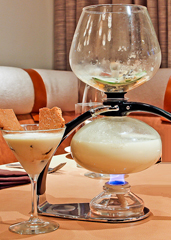 Right about now, you're thinking of friends, family, reindeer, snuggling next to a fire and rum eggnog.
And that's about as wholesome as you can stand.
So we thought you might want to know about a special off-menu, secret holiday cocktail/dessert called the
Spiced Eggnog Sundae
, quietly being served now at David Burke's Primehouse and made with a good number of the above.
Now, we don't want to oversell this. There are no reindeer involved. What you do have is a special dual vacuum glass chamber, normally used for making coffee, which sort of looks like—if you squint—a bong. But no smoking, inhaling or holding it in will be required.
Your server will bring this contraption to your table and light a small burner under it. As the eggnog slowly warms, it will rise into a spice-filled upper chamber, where it will steep in jalapeño, peppercorn, cinnamon, chocolate shavings, ginger, orange zest and cardamom. (That's it, honestly.)
The mixture is released back into the original chamber, where a substantial glug of rum is added. Then you'll just pour it over a big dish of candy-cane ice cream and fig compote, which somehow almost magically came to be sitting before you while you were distracted by all that eggnog magic.
In case you should get the munchies.