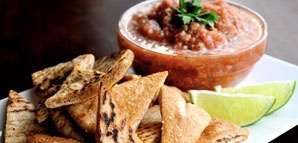 It's just a casual date.

You meet for a drink somewhere suitably disarming—maybe a post-work watering hole in the South Loop. Things are going well and someone proposes extending the evening by grabbing a quick bite.

But the where is up to you.

Welcome to low-key-date-night's Sudden Death Round. Suggest Custom House and you've overplayed your hand. Say Bar Louie and you're out of the game. There is, however, this little taqueria you've just heard about: Flaco's Tacos, opening Tuesday in Printers Row.

Flaco's compact menu of two-dollar tacos, tamales and quesadillas will bespeak your willingness to keep things light. But its art deco lighting, polished copper counters and reclaimed-wood wainscoting will hint at your more refined tastes. The fact that you suggest picking up some Dos Equis on the way just says you think ahead—Flaco's is BYOB until the liquor license comes through.

Now for the final move: Before ordering at the counter, offer your date the best seat in the house—the one with the Corona logo painted on top (you're all class). When you return, say how it reminds you of this private beach you know in Cabo.

Because now you've got that second date to consider...