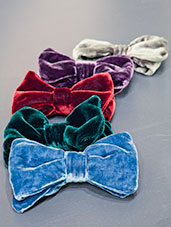 Your champagne sabers: polished.
Your resolutions scroll: prominently displayed under glass.
Your neck: sort of forgotten in the madness of New Year's Eve preparations.
Nothing a little velvet can't fix...
Introducing
Boutaugh
, a new LA-based line of festive velvet bow ties launched just in time to add some style to your New Year's, available now at Alpha.
So if your New Year's tux is looking a little... black-and-white, one of these will punch up your ensemble just enough. Think eye-catching but not... party clown.
They're velvet, handmade in LA and available in a dozen colors, from amethyst to royal—and those are just the purples. (The moss green or deep garnet red could work for that holiday this weekend.)
And by the way, they're pronounced like "boo-TAH"—the designer is a local event planner/TV guy whose grandfather (that would be one Mr. Boutaugh) once took him aside as a young man to hand him a box. In that box was a bunch of old bow ties.
We hear Mr. Vodka once did something similar.