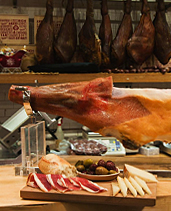 If you know what's good for you, you'll stop reading right now.
You're a good kid, with a bright future. You don't want to throw all that away just for a few glorious mouthfuls of illegal ham.
That's right. Illegal ham.
Introducing
Dehesa Cordobesa's Paleta Ham
, a brand of ibérico ham so potent that you couldn't legally get it in the US until last month—available now at Murray's Cheese.
It's 100% ibérico, but a special variety of the stuff that's fattier, cut from the front leg, and cured and slaughtered in Spain—which is one of the reasons the FDA was so suspicious. And since the pigs in question were fed nothing but acorns for the last four months of their lives, it's likely to be the nuttiest ham you've ever tasted. Also, the most forbidden.
Lesser strains of this jamón have been floating around the states since 2007. But because you only deal in fine to very fine cold cuts, it's the recent arrival of the previously black-marketed 5 Jotas and bone-in Dehesa Cordobesa (the gold standards) that you're concerned with.
Your hookup: Murray's. They've put together a special sandwich to tempt you into ham-based iniquity, pairing the devilish meat with l'etivaz cheese and bread soaked with truffle oil. It's called the
Gilded Pig
, and it'll set you back a princely $35.
Not counting lawyer fees.