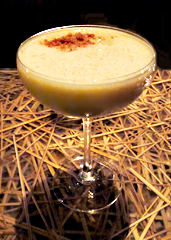 It's hard to find fault with eggnog this time of year. The milk, the spices, the carefully selected shot of liquor.
Yet when you think about it, the whole thing is just so... vegetarian.
You're probably sensing what's coming: eggnog dusted with soppressata and ham powder.
Introducing
The Nogging Ham Cocktail
, available now from the cocktail guru at PS 7's to give your winter cocktail the pork product it's been missing.
Now, this isn't like sucking on a strip of bacon (though that's fine, too). It's more like
a command eggnog performance
with a pork encore.
You'll take a seat at the bar and wave to Gina, the aforementioned cocktail guru. She'll pull out a giant glass jug of milk steeped with cardamom pods and cinnamon. You'll like where this is going even before you see the bottles of Smith & Cross rum and Bénédictine come into play.
She'll shake the concoction to a vigorous froth, and only when it hits your glass does it get its coup de grâce of dehydrated soppressata and ham, ground to a fine powder.
Nothing says "festive" like meat dust.