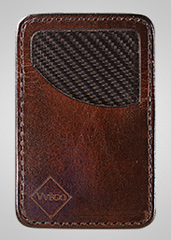 You felt that last night.
We know you did because we felt it, too.
No need to panic, though. What you've just experienced is something commonly referred to as "cold."
It's the kind of elemental phenomenon that calls to mind cigar cases made from ostrich skin and indestructible wallets lined with titanium.
Not really, but while we're on the subject...
Take a look at what just landed at Guffey's in Buckhead:
Vvego International—
a meticulously pored-over batch of handcrafted miscellany (belts, cufflinks, wallets...) made out of anything from sharkskin to hornback alligator armor, available now through the holidays.
You and Guffey's go way back. They built you a suit once. The kind that literally left you with no choice but to hire a choir of angels just to follow you around whenever you put it on. Well, they just stepped it up another notch.
Because a former professional pilot from Alabama named Robert decided to teach those old familiar shelves a few new tricks—cufflinks machined one at a time from titanium and beryllium copper. Handmade lizard-skin belts. Stingray wallets. Even a one-of-a-kind hornback alligator guitar strap. And it's all built to last forever.
It's the kind of accessorizing Ernest Hemingway would have done before heading out to a four-star hunting lodge in Manitoba.
Or the kind you would do before going to work.