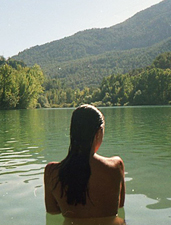 New Year's Eve.
You. Some champagne. A big crowd of sequined revelers.
5, 4, 3, 2...
You see where this is going.
Yep, a new calendar dedicated to globe-trotting skinny dippers.
Introducing
The
Skinny Dipping Report
, a photo calendar with everything one requires to conduct a nude swimming tour of the planet, available now for 2012 planning.
This thing is 12 months of charmingly candid photos of skinny dippers everywhere—from pool parties in Spain (go ahead and take a moment to get a mental picture) to glaciers in Iceland (which is just unquestionable commitment). Plus: Canada.
The enterprise was started by a group of folks who set out to be the unquestioned authorities on naked swimming in the world. And we'll be damned if they haven't gone and done it. Honestly, we can't even think of any competitors.
But look beyond the pictures (just for a moment), and you'll also find restless tales of love and naked desire. Also: tips on exactly how to get to the featured swimming spots, where to stay, and what to eat and imbibe once you're there. The idea is that you'd drop the Report a line (or more specifically, a photo) of your own undressed adventures for future consideration.
You know, if you were into that sort of thing.