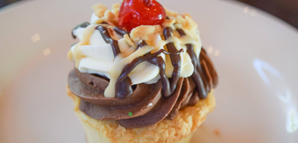 [Option_B] It's sad what passes for decadence these days.

Consider the cupcake. Tiny red velvet ones are fine for some, but with all due respect to that great minimalist architect Mr. Mies van der Rohe, you've never found less is more.

Now consider the B.L.T. Cupcake from, appropriately enough, More Cupcakes. Today you can finally order one—make that half a dozen—for Sunday pick-up from this long-awaited Gold Coast bakery, so often delayed it threatened to become the Chinese Democracy of cupcake boutiques.

Though it's not size alone that pushes this pastry over the top. Nor is it the crispy-chewy bacon bits flecking the crème-fraiche cake—there's pork in everything lately, from your chocolate bars to your ice cream. No, what officially elevates this savory nugget into venial sin territory is the rich and creamy ranch buttermilk frosting—topped with micro arugula and sliced cherry tomatoes.

The B.L.T promises to be the crowning jewel in More's 16-cupcake starting collection—designed by Gale Gand of Tru, no less. You'll also find the sweet (Chocolate with Dark Chocolate Frosting), the savory (BBQ Peach) and versions bordering on the avant-garde (Strawberry-Black Peppercorn-Balsamic).

All are displayed gallery-style in the standing room-only minimalist space. If you want coffee and a place to eat, you'll have to go next door to Starbucks. 

In this respect, we think Mies would have approved.