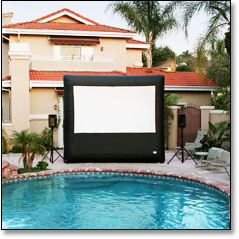 You've recently noticed a shocking weakness among your allegedly cutting-edge electronics—beyond all reason, none of them are inflatable.
Here to address the glaring oversight: the new 
CineBox Home 
backyard theater.
Sure, you've seen your share of impressive Hollywood screening rooms, but now you can be the first to casually unleash a giant 16-foot-wide screen...from within your gym bag. Unzip, inflate and in a matter of moments, you can debate the subtle nuances of modern classics like 
Live Free or Die Hard
—in the shallow end of your pool, with a cold six-pack and your favorite bikini-clad critic. (Hint: It's not Richard Roeper.)
And the next day, rather than leaving piles of electronic equipment lying around to get rained on (because the chance of late-August SoCal rain keeps you up at night), just let the air out, stash it and sleep peacefully.
Of course, depending on the package you buy, you can also take the show on the road for blow-up guerrilla screenings of 
Endless Summer
 on the Malibu shore, 
The Player
 on Hollywood Boulevard...or last year's subterranean triumph 
P2
 from the depths of your favorite parking garage.
Now as for that inflatable Prius...