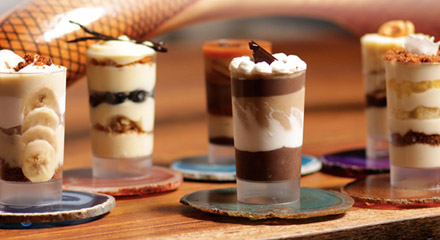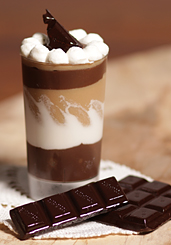 Dear Bill Cosby,
We regret to inform you that your tenure as official pudding ambassador is over.
It's not us, it's you.
We've found someone new. Someone better.
Someone who has no qualms about spiking our butterscotch pudding.
Her name: Clio. Her shop: the aptly named
Puddin
', an East Village sweets shack consisting solely of homemade puddings, toppings, trifles and pies, slated to open next week.
Now that Cosby's out of the picture, you'll drop by this little whitewashed kitchen sometime after lunch, around last call (they'll be open till 1am) or whenever you've finished all the vegetables on your plate. Walk in, take a deep breath (that's melted Icelandic chocolate you're smelling) and approach the pudding-filled display case on your left. Go ahead, press your face up against it.
Inside, you'll find freshly made trifles. From the classic chocolate and (single-malt-laced) butterscotch swirl to the warm brownie-topped
Caramel Macchiato
. Of course, if you'd rather create a cup of your own, there are eight flavors and 19 house-baked toppings (yes, that includes coconut-milk-soaked cake) to choose from. Which should provide enough possible permutations to tide you over till spring, when they launch their pudding pops.
Good after-school snacks from the '80s come to those who wait.