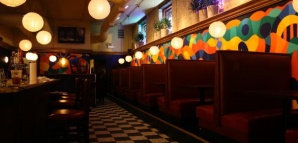 Scarlett. Penelope. Barcelona.

Hand it to Woody Allen—his new ménage-a-trois film certainly stoked your various appetites. We assume you'll want to satisfy one or more of them, post-credits.

So let us introduce you to Tapas Las Ramblas, Andersonville's new tapas-and-sangria cove.

We admit this address has been promiscuous with concepts lately, most recently incarnated as the short-lived Il Fiasco. Now its owner, who launched Twist in 2003, has returned to his tapas roots—and we've heard you'll try anything twice.

The spacious dining room is now enlivened with Gaudi-inspired murals, but you and Ms. Johansson and Ms. Cruz may feel slightly exposed there. Grab a cozier booth in the lounge, where the din will serve as cover as you make intimate plans for later—plus, you're that much closer to the liquor.

If someone in your party feels more adventurous than sangria, order her a raspberry or pomegranate mojito—though the Spanish Fly tequila martini seems so much more, oh, we don't know, appropriate.

The lineup of traditional a la plancha tapas (Beef Tenderloin with Blue Cheese Cream Sauce, Squid with Garlic and Lemon) will pique your curiosity, but don't forget to put your request in early for the family-style shellfish paella.

Because we know how much you like to share.