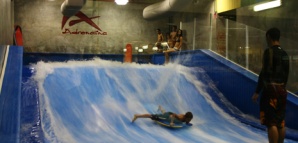 You love the beach and everything it stands for. (And most things that stand on it.)

But every now and then you get the fever for a little more wave with your sand.

Here to fill the void in your surfer's soul: the Flowrider machine at Miami International Mall's newly opened Adrenalina store.

Sure, it's out west, and yes, it's in a mall, but it's all worth it to catch a few killer man-made waves.

Follow the beach bunnies traipsing through the food court in flip-flops and bikinis and prepare to go all Kelly Slater. Housed in an extreme sports store designed to look like a skate park, the enormous surf machine is enclosed in a glass case and shoots thin sheets of water over a padded waveform to create a perpetual unbroken wave. (It's, like, neverending, brah.) 

As you carve up the water without the aid of sunblock, don't be surprised if you eat it a few times, to the amusement of mallrats hovering in front of the glass box. But hey, at least there aren't sharks.

With all that adrenaline pumping through your system, you may decide to take up wakeboarding or something similarly extreme-y, in which case the store's stock of action goods will come in handy.

The AC is a nice touch, too.