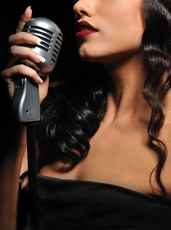 Ah, the life of a music video director.
Concepting with Beastie Boys. Auditioning video vixens. Concepting with video vixens.
Not a bad gig at all. In fact, we think it's time you break into the industry...
Meet
Video Star
, an iPhone app that helps you recreate the golden age of MTV on your phone, available now.
The next time you're putting together a corporate training video (or a demo reel for Kanye), you'll turn to this. Also: just for fun.
The way it works is, you've got music, and this app has dozens of (mostly retro) effects. So you and the group of aspiring chanteuses you keep around (the "You-relles") can bond while covering "Bohemian Rhapsody" (or whatever songs you've got on your phone) through a filter that makes it look like you're in
Tron
.
When you're ready to make the next "Thriller," you'll choose a song from your library and an effect (let's say night vision, or '80s-style motion blur) and press record.
And no, you're not getting away with keeping this to yourself. You'll share your masterpiece on YouTube and through email with one all-too-easy tap.
Try to keep the star wipes to a minimum.