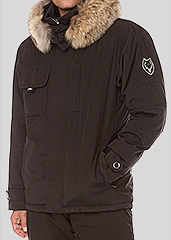 Your fall coat: you found it. You're wearing it. It's
dashing
.
Your winter coat: unfound, at present. Unless you know where to look, that is.
Luckily, we do...
Presenting
Mark Miller Coats
, makers of your next great fur-accented winter covering, available now from a husband-and-wife team in the South End.
First, you'll need to find their shop. And don't be alarmed by the fact that, when you arrive, it feels like you're stepping into an extremely organized coat room/coat factory. (Just look for the giant zebra rug on the ground... you're in the right place.)
Awaiting you there: racks of men's winter coats designed by Mark and his wife (who may or may not be at work in the back). Think: outerwear as good for the slopes as it is for the non-slopes, including a Thinsulate-packed, water-repellent, coyote-fur-lined hooded
ski parka
(it'll be a hit at Attitash) and an Italian-fabric down jacket with a hood lined in raccoon fur (if you're headed to a PETA event, zip off the hood).
But our favorites are probably the
Raul
, a handsome, suede-trimmed barn jacket (aka your new go-to when visiting your horse stables), and the
Stephen
, a lighter, all-wool ski jacket-sweatshirt. They'll both go pretty well with the brand's handmade, classic trooper-style fur hats.
Ever since
Fargo
, you've had a thing for them.