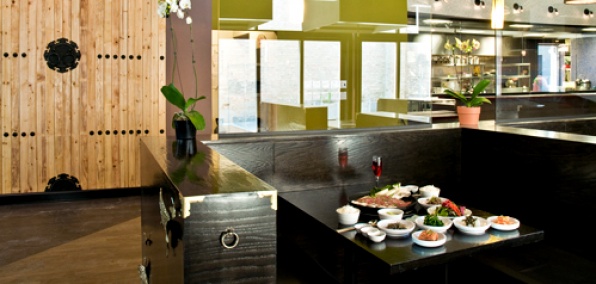 Four words: Your table. On fire.
Okay, sure, a few more words:
Welcome to
Tozi
, home to a veritable feast of Korean BBQ roasted right at your table, opening Monday.
If you're imagining a sort of Benihana by way of Wicker Park, you're close. But instead of sitting at a huge table, you'll be at a midsize booth. And instead of looking in on a flat grill, you'll be seated around a gas burner. And instead of sushi, you'll be eating barbecue.
So walking in, you'll hear: the sizzle of meat roasting over fire. You'll see: some orchids, a blue translucent bar and a couple wooden doors hung on a wall. And soon, you'll taste: beef tongue, duck and octopus,
prepped by a chef
who spent a few decades honing his craft in Seoul.
Your journey begins with you and a big group deciding between plum and rice wine, then maybe ordering up a little stew (oxtail, codfish or kimchi). Then, it'll happen: the chef will come out and spark a flame on the burner in the center of your table. After that, he'll sear the meat in a flash of flame and hot steel. All of this: happening right in front of your face.
It's okay to stare.