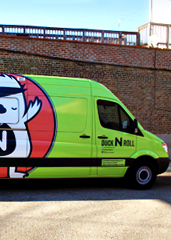 This whole city's gone food truck crazy. And frankly, you approve.
But the whole banh mi sandwich trend... actually, you like that, too.
So we don't know how you're going to feel about the next thing we're going to tell you. It involves a food truck selling banh mi sandwiches.
Prepare for
DucknRoll
, debuting on Thursday with a full slate of Vietnamese sandwiches ready for your approval.
The truth is that this isn't your typical banh mi. Oh, sure, they've got one of those—made with a crunchy French baguette they've commissioned especially for them, and loaded with headcheese, pâté and ham. But from there things take off in a more Shanghai pork belly, Thai chicken curry, Chinese five-spice pulled duck and sake-and-miso-braised short rib direction. Before you know it, you're caught up in a flurry of deep-fried wonton chips and azuki bean cinnamon donuts for dessert.
Now, the big debut is Thursday outside a party for a photography exhibit. But after that, you'll keep your Twitter tuned to
their handle
and track their whereabouts for your lunch runs. You can't miss it: it's the only big truck with a cute cartoon duck holding a chef's knife.
That we know of.