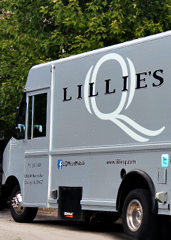 This is an all-points bulletin.
Be on the lookout for a late-model van matching the following description: Big. Silver. Smells like a barbecue pit.
The
Lillie's Q Meat Mobile
is on the loose.
It shouldn't be hard to find—it's playing easy-to-get for the first three weeks or so. It will set up shop at 11am in the parking lot at Franklin and Calhoun, doling out some of the greatest hits from its rustically classy barbecue home base in Wicker Park.
In fact, until now, you've tended to avoid barbecue for lunch meetings—sticky fingers make for suspicious deal-closing handshakes. (And the less said about business meetings in parking lots, the better.) This particular truck allows you to rethink your position.
The ace up its sleeve: it's focused on sandwiches. Two sandwiches, in fact: pulled pork or pulled chicken, served on soft brioche. You'll also find Lillie's Q's five signature sauces—smoky, hot smoky, Carolina, Carolina gold or ivory—along with sides of coleslaw or baked beans.
But it's the primal allure of the sandwich form that's key. Neat. Portable. Boneless. Easy to discreetly slip into the side pocket of a certain well-connected power broker.
Which reminds us, the Meat Mobile is cash only.