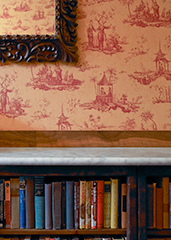 Once upon a time, people read books.
These books were printed on paper.
And it was de rigueur that a proper drink accompanied those books.
Welcome back to the good old days...
Introducing
Two Sisters Bar and Books
, a 19th-century-inspired repository of cocktails and literature, opening Friday in Hayes Valley.
Imagine a Victorian library, add booze and you've got this place—low lighting, dark wood bookshelves, hundreds of hardcover books. The kind of joint where you'll want to toss on a velvet robe, light up a pipe and throw down with Hemingway over an Old Fashioned. (Actual robe and pipe discouraged.)
You'll come here with a date who wears glasses, favors short skirts and has memorized the Dewey Decimal System. (You'll also come here with other dates.) Whoever you're with, make sure you bring a strong thirst for ale, côtes du rhône and (once the full liquor license goes through) whiskey. Because, you know, they have those things.
And if you're looking to sip some sherry and thumb through an old masterpiece over
a roast beef sandwich at lunch
, you can do that, too. Grab a stool at the marble bar next to the bookcase stacked with upwards of 300 hardcovers.
Break out a Kindle at your own risk.