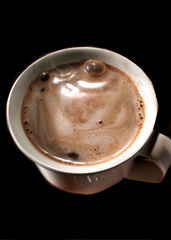 Here we are.
Already.
That point in the Bears' season when you begin to wonder. Wonder if Cutler is really the man for the job. Wonder whether you should have placed your faith in a man named Lovie. Wonder if there's an easier way for you to reach your daily recommended bacon allowance.
Let us answer with a thundering, confident*:
Yes
.
*Please note: that yes only refers to the bacon part.
So take a bracing swig of
McSteven's Cocoa Combos
, a welcome advancement in strange and delicious stuff you can put in your thermos.
This boutique line of hot chocolate flavors is out of Vancouver, Washington, and offers the exact ingredients you'd expect when amping up the flavor of chocolate: bacon, chipotle chili and curry powder. Okay, maybe you didn't expect the curry. But bacon and chipotle—pretty much ringers in the business of making things taste better.
So picture this Sunday. Soldier Field. Bears. Panthers. You feel it: it's make-or-break time. The grills are fired up. The air is heavy with the heady perfume of brats and barbecue. Bloody Marys are spilling on the pavement.
Then you reach for your thermos arsenal and start pouring. First, curry (warm, exotic). Next, a round of chipotle (kicky, chocolaty). Finally, your big play: bacon hot chocolate (bacony).
Tailgating victory is yours. And spiking is encouraged.