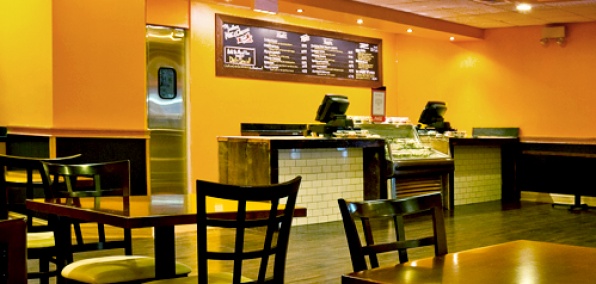 It all started with a dream.
Actually, no. It all started with a restaurant.
Which turned into a bar.
That spawned a food truck.
Which has now become yet another restaurant.
A restaurant serving ungodly amounts of mac and cheese.
So it's kind of like a dream after all. You know—that recurring one you have about swimming in vats of mac and cheese. That dream.
Welcome to
The Southern Mac & Cheese Store
, a homey quick-serve, now dishing out heaping portions of the stuff in the Loop.
You know something about this place already. The chef helped turn Chaise Lounge into
the Southern
and made it the gourmet honky-tonk it is today. When the Southern took its mac and cheese mobile this year, he was behind the wheel, figuratively at least.
Here, the mac and cheese comes full circle. Or at least full stop. You won't have to run after a food truck anymore to get a
Truffle White Cheddar
mac and cheese on your lunch break.
Just step right up to the counter and choose from a baker's dozen mac and cheese varieties—e.g., pulled chicken with blue cheese and buffalo sauce, New Mexican green chili
with pepper jack and cotija, or the
Good Old Fashioned
with American and cheddar.
Just like Grandma used to serve out of her van.