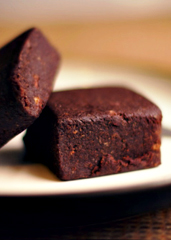 Today's word is: bacon.
It's everywhere you look.
In
your coffee
. In your
ice cream
. In your breast pocket (no explanation necessary).
It was only a matter of time before your blueberry muffin was involved.
Welcome to the regime of
Baconery
, a bold group of bakers who won't rest until everything you ever cared about is filled with bacon, launching online Wednesday.
What these guys do: make dreams come true. They also take your standard lineup of delicious baked goods—chocolate chip cookies, scones, marshmallow bars, etc.—and add thick cuts of locally butchered bacon to them. (Foreign bacon has no place on a scone.)
Along with smoky delightfulness like brownies, banana bread with walnuts and pretzel rods dipped in chocolate (all of course with bacon), there will be a secret menu. What's on it is, well, a secret (cupcakes may make an appearance). But you'll access this mystical land of classified pork by name-dropping famous fictional pigs (hint: think of Kermit's love life).
So picture it: it's Saturday morning. You wake to the heavy smell of... muffins. No, brownies. No, wait. It's bacon. Wrong. It's all of the above.
You love it when it's all of the above.