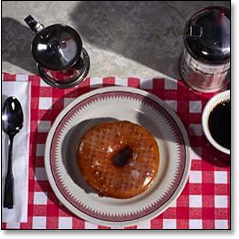 There's a guy in your office we need to talk about.
You know him. Beige Dockers. Eager grin. Todd, Emily and Jane get all crazy when he bounds in Friday mornings with that cheap box of doughnuts under his arm.
Sure, maybe he's a little charming, but certainly not as charming as you. Or as smart.
So it's time to beat him at his own game with a call to the folks at
Glazed Donuts Catering
, a different class of morning pastry.
Imagine the accolades you'll receive from the boss after he bites into a farmer's market-fresh
Bing Cherry
Donut
, glazed with cherry juice frosting and balsamic.
Though pandemonium may break out in accounting as the boys battle for that last
Mexican Hot Chocolate
,
Chocolate Basil
or
Cardamom-Scented Lemon-Pistachio
.
But please be gentle with sweet, quiet Susie from steno. Her eyes will widen with anticipation when you approach to ask what she's been longing to hear: "
Honey Lavender
or
Vegan Coconut Lime
?"
The key in all this is planning ahead. You should call by Tuesday for a Friday morning pickup, which is actually the only day Glazed does small orders. The rest of the time, Glazed is a two-woman operation focused on big catered affairs.
Like the large promotion party that we sense in your future.