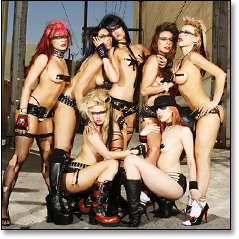 So yesterday you felt a pretty substantial rumble.
That'll pale in comparison to Saturday—if you're anywhere near Hollywood, that is, when seven roaring lasses known as
The Deadly Seven
(stay with us now) take the stage.
In the dark confines of a Hollywood club that's hosted top DJs, cabarets and the occasional Lohan, you'll be facing a wall of noise courtesy of a rock band fronted by seven former Las Vegas showgirls, all putting their training to good use by assuming the names of the seven deadly sins—say hello to the talented Wrath on drums and the lovely Lust handling vocals. (One of our era's most esteemed music critics, Jerry Springer, dubbed the Deadly Seven "the most dangerous band in the world.")
If you're intrigued by the idea of a trip to the dark side but worried that your unfamiliarity with their oeuvre might be a problem, rest assured they mix original pieces with more familiar covers—though they might be reinterpreted with some explosions, cream pies, ski masks, chocolate and fake blood. Really.
Ultimately, it's all a bit more intense than a measly 5.4.
But we're guessing you can handle it.