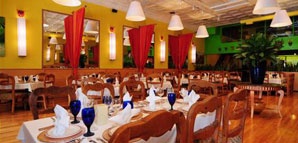 In this heat, you don't need much cause to break out the tequila.

But this time, you might want to reach for that añejo reposado you've been saving for a special occasion…because we just found it.

Introducing Real Tenochtitlan, your upscale Mexican BYOB opening Friday in Logan Square.

Make that re-introducing. Yes, Geno Bahena, the onetime Rick Bayless protégé, is back brightening up Milwaukee Avenue—not far from where you first fell for him at the sorely missed Ixcapuzalco.

And he's brought something for you to toast, namely the exact same menu. You'll once again bow down before the "Queen of the Moles," the Mole Teloloapan, a 32-ingredient fiesta made with multiple chiles, nuts, seeds and herbs, plus Mole Blanco, his white-chocolate and almond specialty. Slather them on everything from quail, duck, maybe even ostrich. Oh, what the hell, just get the five-course tasting menu—this is a celebration.

Speaking of which, leave the margarita mix at home. Bahena will have pitchers of his special fresh-squeezed lime version ready for you when you arrive. He'll also have a selection of fresh juices, including the tamarind-infused Tamarindo, in case you've decided to bring vodka instead of tequila.

Yeah, the heat can make you do crazy things.