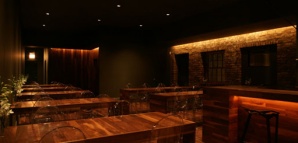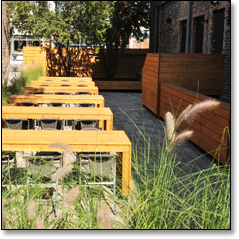 As summer peaks, you'll need a bit of artistry to juggle your late-season social calendar; politely steering yourself away from gatherings that sound tedious and/or indoor-ish will be more important than ever now that warm days are dwindling.
To make planning easier, get acquainted with
Duchamp
, a stylish addition to Bucktown's alfresco scene, opening Thursday in the former Meritage address.
Like the restaurant's Dadaist namesake, Marcel Duchamp, acclaimed chef Michael Taus (Zealous) unleashes his playful side, turning everyday edibles into
objets d'art
. Among his oeuvre:
White Pizza
heavy with lobster, Taleggio cheese and royal trumpet mushrooms, and
Steak and Eggs
—grilled skirt steak with parmesan smoked-bacon quiche and shallot sauce. And just so things don't get too stuffy, Taus plans to throw dress-down barbecues on Sunday afternoons, where he'll flip burgers and grill
Chorizo and Egg Quesadillas
.
Still, just like with Duchamp, there's bound to be controversy. In this case, the seating is communal. We know what you're thinking: fine for Randolph Street, but sort of drag for a neighborhood spot. And you're right. The good news is, the tables are wide and extra-long, which means your elbow won't be winding up in your neighbor's smoked
Salmon Tartare
.
Unless, of course, you want it to.