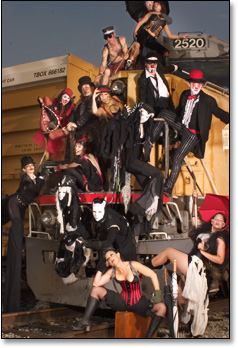 Running a Fortune 500, romancing a supermodel, running away to join the circus—you've always had lofty ambitions.
Revisit at least one of those dreams with a trip to the
Cirque Berzerk
big top, debuting Thursday in a famed downtown park (the one where they built the giant cornfield).
Instead of monkeys on bikes and clowns with squirting flowers, you're here for "Beneath," an edgy spin on the Greek myth of Orpheus, the way it should always have been told—you know, with fire-eaters, contortionists, airborne athletics and scantily clad women on stilts. (Think Cirque du Soleil, with far more tattoos.) You'll want to arrive early, though, to hit the beer and wine garden—it opens two and a half hours before showtime—before entering the circus tent resembling the one you remember from childhood.
This bohemian troupe got its start out in the desert at the infamous Burning Man music festival, so you should expect a fair amount of…hallucinogen-friendly fare (just saying). Of course, nobody officially advocates such things, though you're welcome to bring a picnic beforehand.
It's like the Hollywood Bowl on…well, you know.