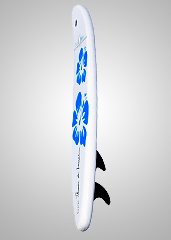 Your life is getting more portable by the day.
A tuxedo that fits in your pocket.
The
Godfather
canon on your keychain. An entire pizza in capsule form. (That last one is patent pending.)
And now, a surfboard small enough for your carry-on.
That's how you'll travel with the
Surf Air
, an inflatable surfboard from the mind of a French furniture designer, available now.
Sure, you
'
ve owned your share of impressive longboards, but now you can be the first to casually unleash a sturdy seven-footer... from within your gym bag. Unzip, inflate and in a matter of moments you can be out on the water, catching a wave, Bodhi-style.
Your board: made of three layers of polyester covered in PVC, just as sturdy as a regular surfboard. Its weight: a manageable 10½ pounds. Time to inflate: two minutes (enough to draw a crowd of bikini-clad onlookers).
And in case you're in the mood for more than just surfing, it also works as a stand-up paddleboard, a sit-on-top kayak or a makeshift beach mattress.
In case you need a nap.