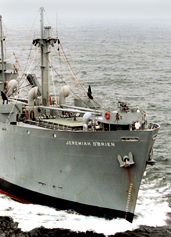 Top Gun–
era Tom Cruise impersonating, nautical cocktailing, getting a buzz cut and a "Mom" heart tattoo...
But enough about the night you rappelled onto Fort Point after hours.
We're here to discuss
Stag Dining Group's
Mission: Battleship
, a maritime-themed soiree in honor of Fleet Week taking place on the deck of a WWII ship, accepting reservations now for the October 6 party.
If you've been looking for a raucously festive seafaring party aboard an old ship, this is your night. You'll find your way to the USS
Jeremiah O'Brien
(a ship that made four wartime crossings of the Atlantic) and be treated to roving buzz-cut-happy barbers, tattoo artists, battle stations manned with gourmet mess-hall bites, cocktails from the sea dogs at 15 Romolo and a headlining act by Reggie Watts.
But be warned: it's only docked here at Pier 45 for one night, so you'll want to go all in, show up in dress whites and introduce yourself to "(Not) Tom Cruise," an impersonator doing his best Pete "Maverick" Mitchell impressions.
It goes without saying that he can be your wingman anytime.