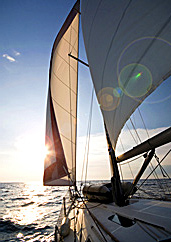 You've got a high-seas problem. Well, more like an issue.
You've got a craving for the ocean. A gorgeous first mate lined up. But... your usual vessel is in the shop for post–Labor Day refurbishing. (Something about Carla Gugino's stilettos not getting along with your mohair-upholstered benches.)
Here's a solution: commandeer a vessel from
Ace Sailing Charters
,
at your disposal with a flexible schedule and an even more flexible stance on alcohol, taking reservations now for jaunts to Bimini, day trips to Stiltsville and sunset cruises over Biscayne Bay.
Meet your captain, Frank. He's a 35-year Navy vet and sailboat racer whose 21-year-old, 65-foot racing cutter doubles as his house. By day, Frank's an IT professional (seafaring doesn't always pay the bills), but come nights and weekends he'll run you and up to five fellow sailors on the windswept cruise of your choice—as far as the Bahamas or as close as Key Biscayne.
Possibly your best bet: heading to Stiltsville, a village of wooden houses built on a shallow area a mile off the coast of Key Biscayne during the '20s for the twin purposes of underground rum-running and gambling. (Sadly, the gambling's gone the way of Prohibition.) The cruise is BYOB, so feel free to bring moonshine (or whatever else you can fit in an ice chest).
You've been meaning to get into bootlegging.